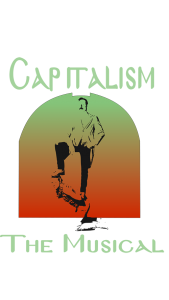 Capitalism:  The Musical returns — by popular demand! The show returns to the Back Loft for three shows only; a gala show on December 3rd and a matinee and regular show on December 4th 2016. 
Capitalism:  The Musical is an acrobatic political satire on the state we are in and the future we can create.  Written by Deirdre Murphy, Capitalism: The Musical is a razor sharp fairytale of heroes, emperors, and magic.
Capitalism:  The Musical tells the tale of a heroic group of everyday acrobats, aided by a powerful triumvirate of Fairy God Mothers.  The acrobats tell their own stories — who they are and why they care — while a trio of Emperors breathes down their necks and schemes to stay on top.
The international cast makes power and control visceral, through acrobatic virtuosity.  Spells are cast and broken, whistles are blown, and a possible future is written.
Capitalism: The Musical examines the biggest challenge the world has collectively ever faced. The performers provoke humour and provide hope while reinforcing awareness that we are at a crossroads for human kind.  If another world is possible, let's get it in the making.
Suitable for ages 10 and up. Tickets start from 10 euro.